Hello Dear Readers,
I'm glad you joined me again!
Today's post will be a short one, I just wanted to put the word out that I'll be doing The Long Weekend sew along hosted by
Heidi
and
Lori H.
.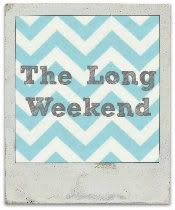 We'll be making Amy Butler's Weekender Bag. I bought all my supplies last night at Jo-Ann, they had the home decorating fabrics for 50% off. Actually all the supplies were on sale except the cording, which was a pretty good deal a 100ft for about $5. I got extra from everything and managed to spend heaps amount of money. I was joking with someone that this will be the most expansive bag I've yet to have :) If you feel like it, come and join the fun! The kick off post was on the 15th with the schedule of the guest bloggers and sponsors so it's not too late. I joined this sew along because I want to see if I could rise up to the challenge. I'm not a bag maker, only made a few Easter baskets and a tote bag so far, so it will be a big bite for sure! :) If it turns out OK, I'll be making another one for someone.
These are the fabrics I'm going to use:
The bottom fabric I'll use for the exterior and the blue one will be the lining.
In the mean time I started to work on quilting the Christmas blocks and have cut up some scraps from my scrap drawer. Pictures will be posted later.
Now I have to run to make lunch.